Each case study highlights a unique business problem or opportunity and demonstrates how our tailored solutions overcame obstacles and achieve success.
From startups to established enterprises, our case studies cover a diverse range of industries.
Here, we showcase real-world examples demonstrating how our services have significantly impact on our clients' success.
These case studies provide an insight into the challenges our clients faced and how we partnered with them to achieve remarkable results.
Whether you are seeking inspiration, looking for proven solutions to similar challenges. Or perhaps you are curious about the impact our products and services can provide. We invite you to explore our collection of case studies. Discover how our solutions have transformed businesses and exceeded expectations. Contact us to learn first-hand how we can help your organization achieve exceptional results.
Compact High Frequency Screen.
Approached by a new customer who had a requirement to modify an existing recycling line. The problem was a fine bottom end material which needed to be extracted as this was creating problems later in the recycling process. Several issues were addressed including the material flow rate, (so as not to affect production) plus working around the constraints of the existing plant and structure.
Crushing & Screening Ltd designed and fabricated a very neat solution of a transfer conveyor and high frequency screen which was successfully added to the plant.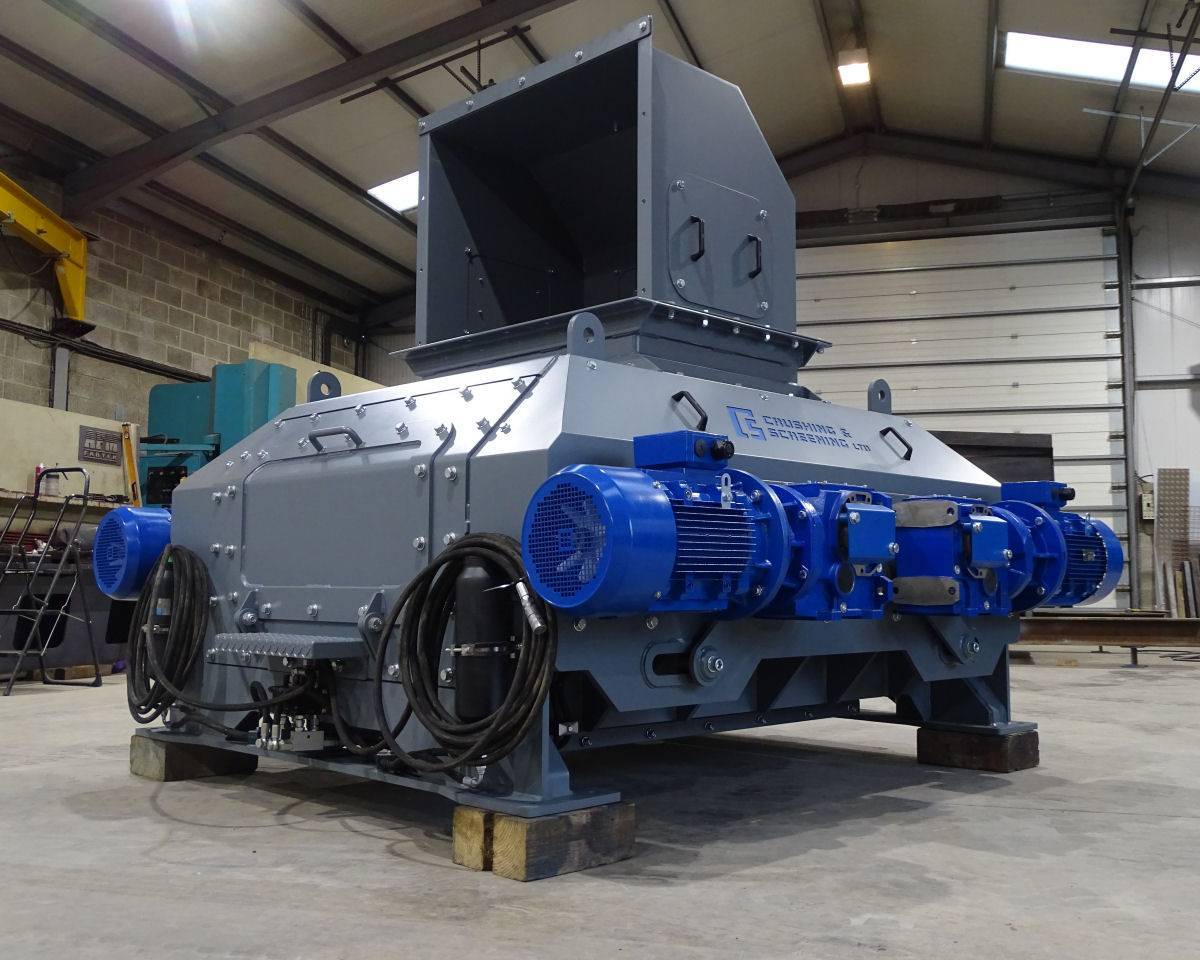 Gypsum (Plasterboard) Recycling Mill.
With a customer brief to design and build a mill to process recycled plaster board material. The specified feed product was pre sized to 50mm down and would have a feed rate of 30-35tph. The customer's requirement was to liberate the gypsum (-3mm) from the paper, without adding any further paper fibres to the finished material. The paper and gypsum material would then be recycled and a percentage reused into new plasterboard sheets.
Crushing and Screening Ltd successfully designed and manufactured an entirely bespoke system for the customer. This subsequently led to further orders from the same customer.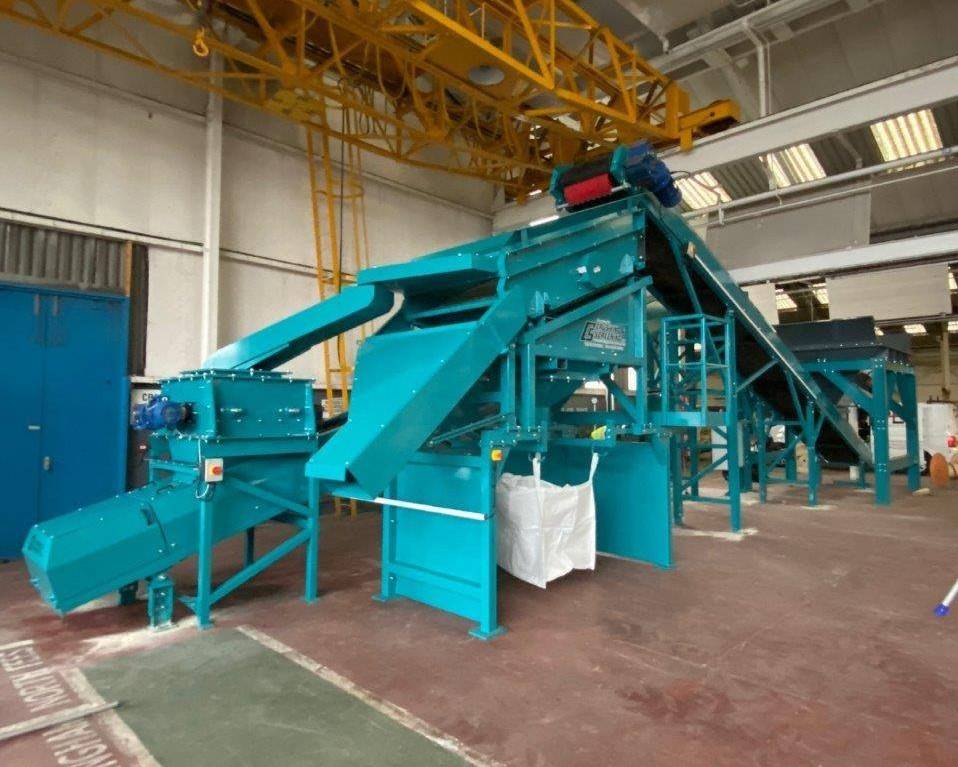 Feed hopper, conveyor, screen, mill and recirculating system for fertilizer production.
Crushing and Screening Ltd were approached to provide a system for the processing and sizing of a new fertilizer material. The feed material of 40mm down would be processed to give two finished products with sizes of 0 to 2mm and 2 to 5mm with the +5mm being re-crushed and returned to the system for re-screening
Crushing and Screening Ltd successfully designed, fabricated and installed a complete closed loop system with a combined throughput of 10-15tph. The finished system provided the solution our customer required.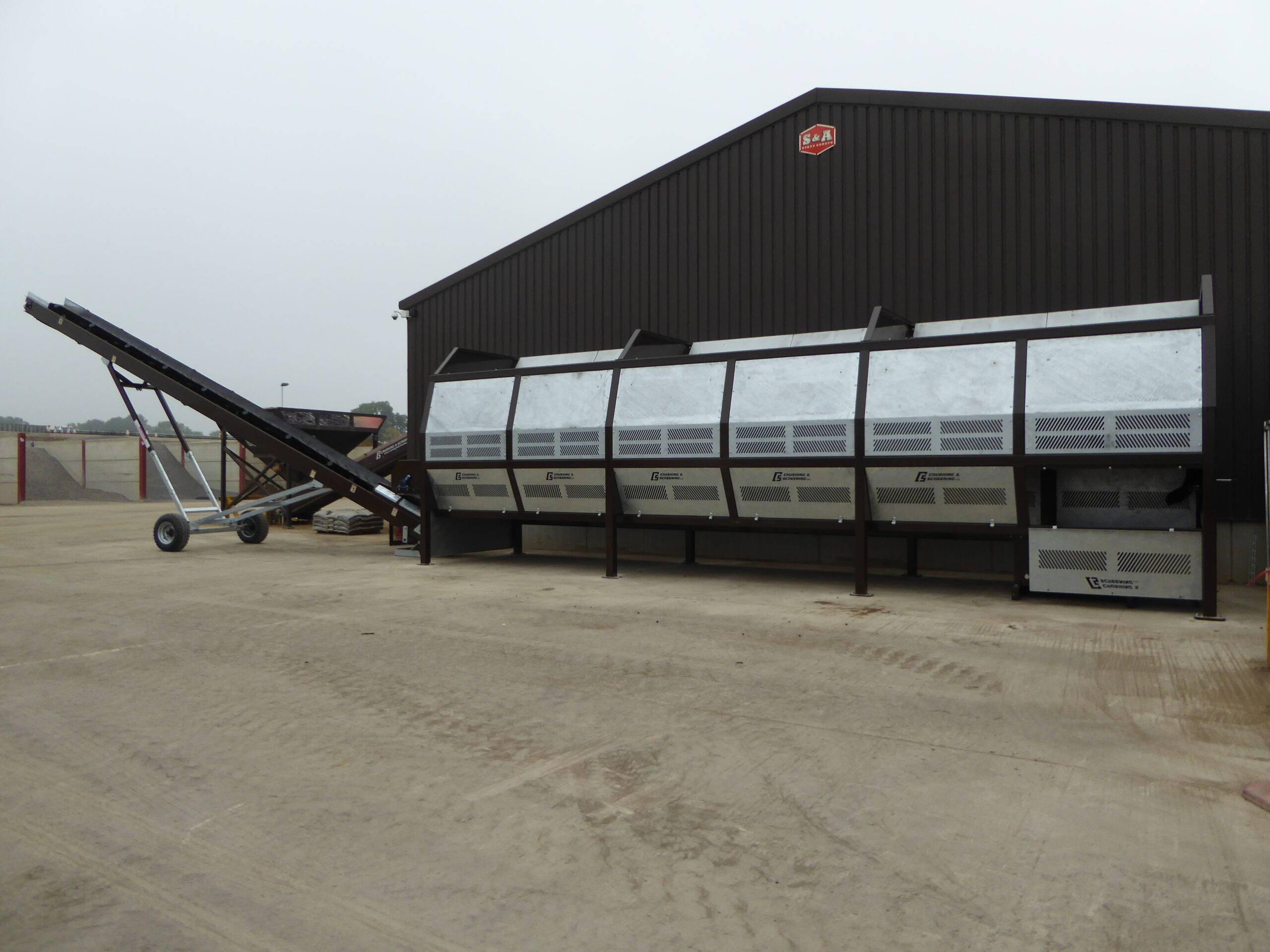 Aggregate blending system.
To design, fabricate and install a blender and radial stock piling system. The specification required the unit to handle three materials of 6mm to dust with a typical combined throughput of 180 tph.
Crushing and Screening Ltd provided a solution which incorporated three variable speed feed hoppers over a single collection conveyor, then into a radial inclined stock piling conveyor. The system works well, and although supplied some time ago is still in regular use.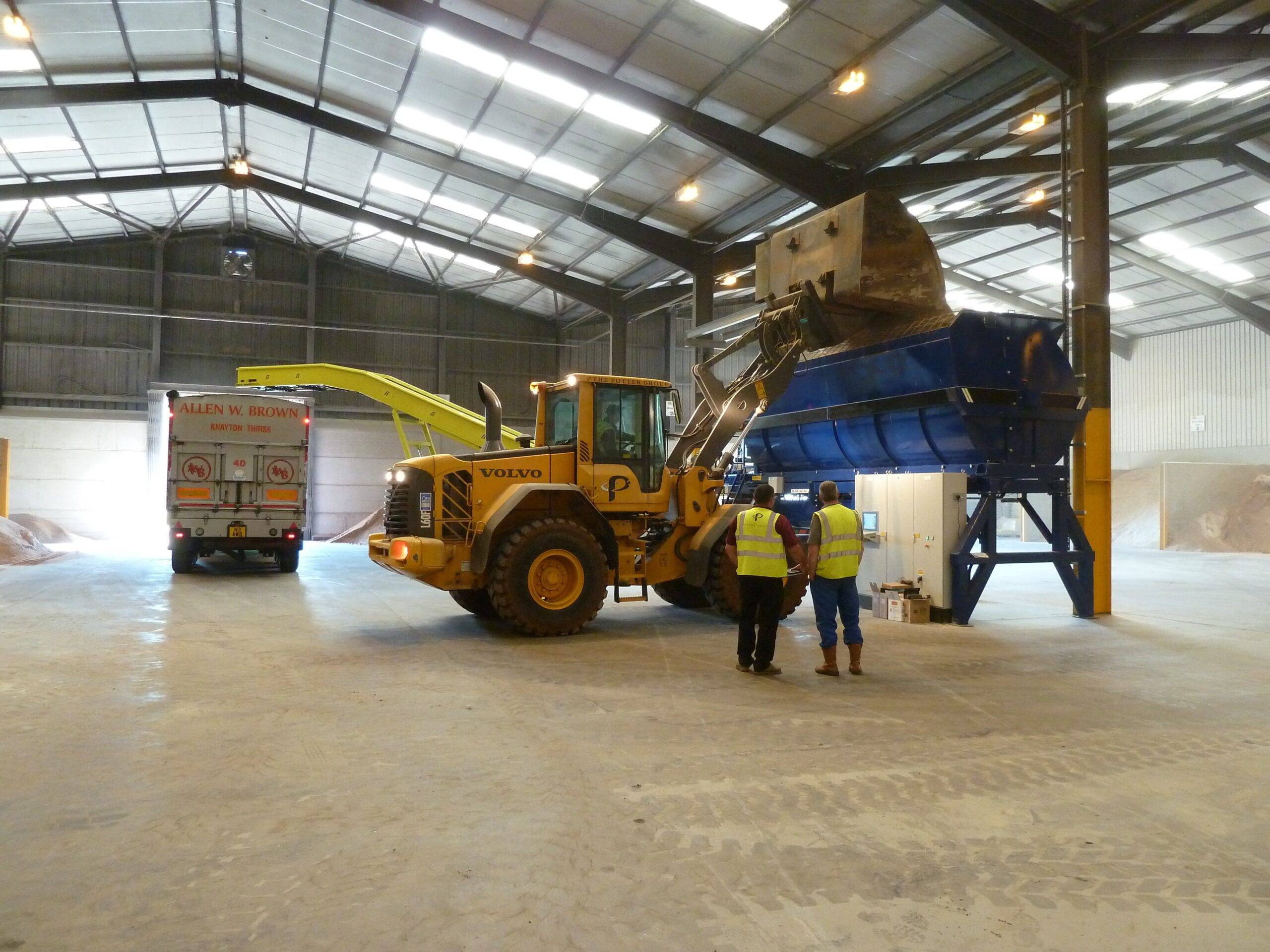 Animal feed blending and loading plant.
Requested to design and manufacture an animal feed blending plant. The unit would be required to mix and blend animal feed, minerals and liquid to a know formular.
Crushing and Screening Ltd provided the solution by measuring the recipe out into a batch weigh system. Once blended through the mixer, the feed was discharged either directly into bulk transport, or to a stocking area via our powered radial conveyor.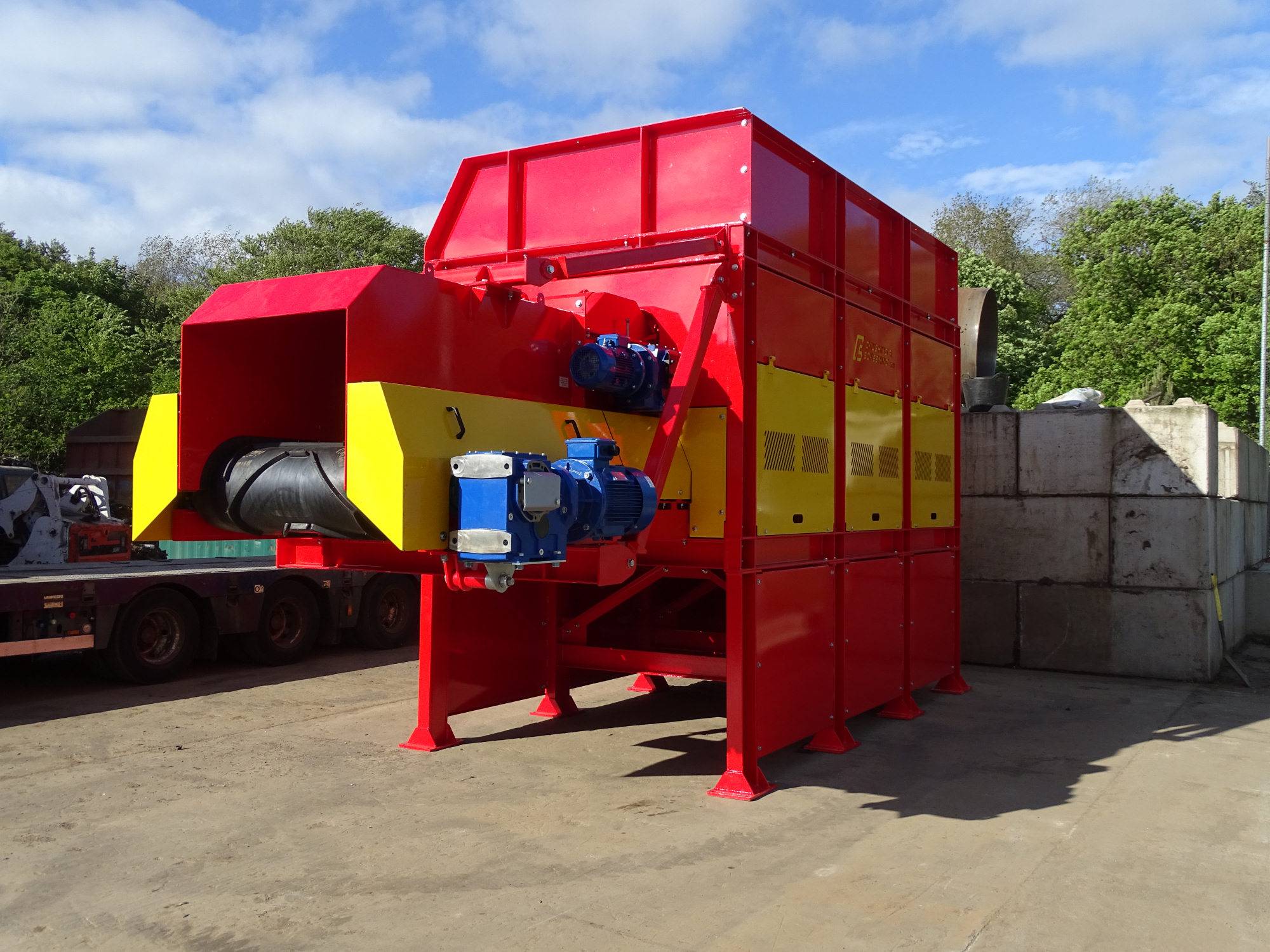 Bulk feed hopper for a scrap metal recycling frag plant.
Approached to design, manufacture and install a primary bulk feed hopper for a recycling scrap metal frag plant. The material being difficult to regulate due to its various shapes, size and weight. A problem was envisaged with material exiting the hopper snagging.
Crushing and Screening Ltd successfully overcame this problem with our bespoke designed adjustable teaser drum.