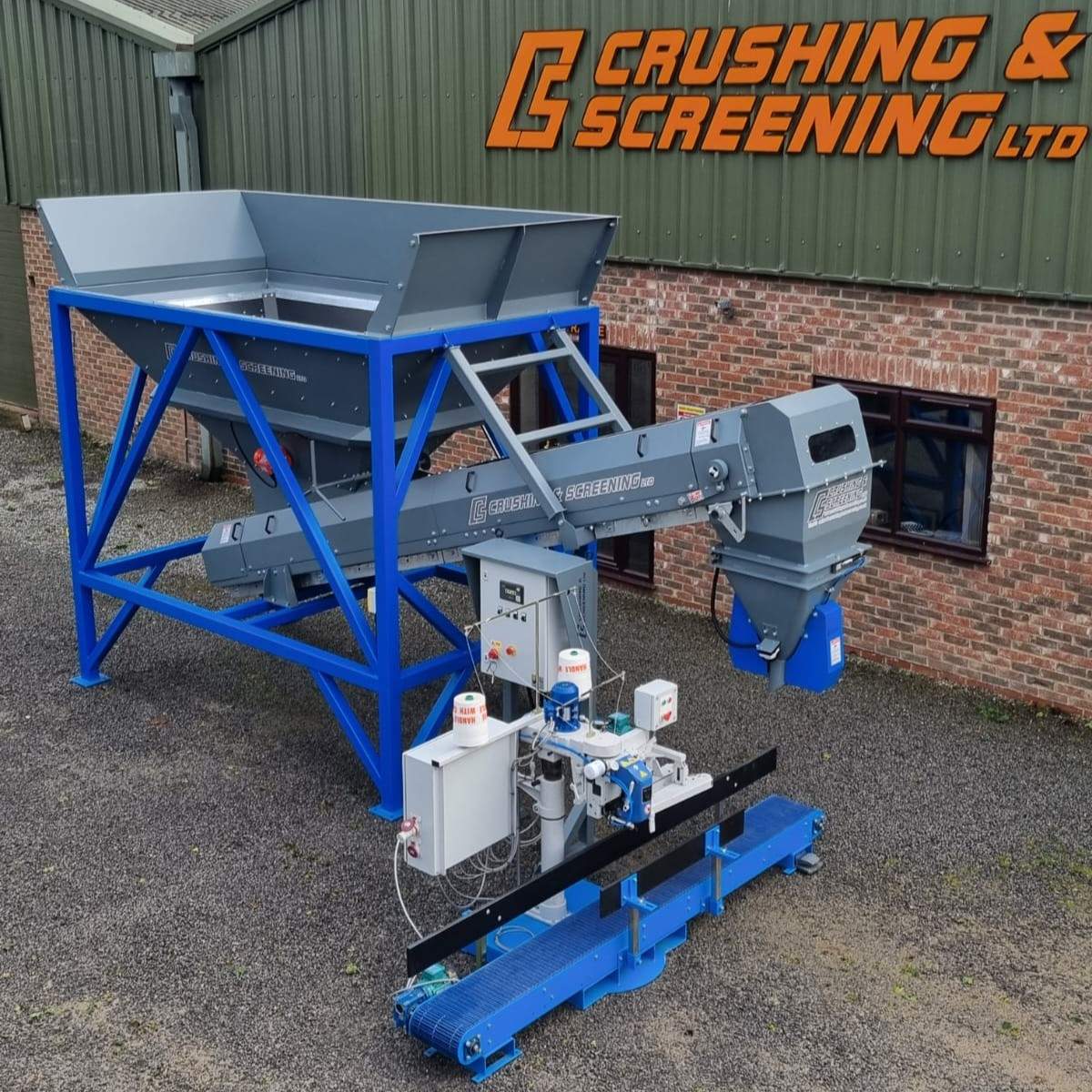 20 / 25kg bag fill systems
This 20kg / 25Kg bag fill system is an ideal choice for both small-scale and large-scale packaging requirements. It possesses a user-friendly interface, accommodating a wide range of products, such as granular materials, powders, aggregates, and sand. Whether for retail sales or industrial use, this machine ensures superior performance and consistent results.
Manual operation
In terms of operation, our 20kg / 25Kg form, fill, and seal line offers remarkable flexibility. We provide the option of manual operation for individuals who prefer a hands-on approach, permitting complete control over the packaging process. This choice is advantageous for smaller production volumes or when specific customization becomes necessary.
Automated packaging
Alternatively, we also offer fully automated robotic palletisation. Integration with robotic systems achieves complete automation of the packaging process. As a result, manual labor requirements are reduced, leading to a significant increase in productivity. This configuration particularly suits high-volume production lines, optimizing efficiency and maximizing output.
Latest technology and features
We place customer satisfaction as a top priority, which is why our 20kg / 25Kg bag fill systems are equipped with the latest technology and features. They encompass precise weighing mechanisms, variable bagging speeds, and intelligent control systems. Recognizing the uniqueness of each customers' process, these machines offer high customizability to seamlessly align with your specific requirements.
Durability and longevity
In addition to exceptional performance, our bag filling systems are designed to endure rigorous operating conditions, ensuring long-lasting durability. We also provide comprehensive support and maintenance services, guaranteeing smooth operations and minimizing downtime for your new machine
Experience the future of packaging with our automated bag filling systems. Browse through customer testimonials and view our company YouTube channel. Contact us today to discuss your requirements and discover how our innovative solutions can transform your packaging process into a highly efficient and cost-effective operation.
This 20kg / 25Kg bag fill systems from Crushing and Screening Ltd is capable of bagging up to 400 bags an hour. The system includes a 4m3 hopper, conveyor, load cell-controlled bag clamp, weigh indicator, discharging conveyor complete with guide rails, and continuous heat sealer.
This open-mouth bagging system automatically releases the bag once weight or volume is reached. Any desired target fill can be achieved by changing the set amount on the weight control unit. Used for manual or automated bagging of Aggregates, Rock Salt, Wood Pellets, Fertiliser, and other products.
The manual unit can easily be extended to a fully automated pallet stacking system. A four axes robot is perfect for high-speed palletisation. Combined with the other peripherals manufactured by ourselves, it is the ideal solution for creating any type of layered pallet automation.
Options
Various automation options, bag rumble, bag flatten. etc.
Fully lined (HDPE) hopper.
Separate or integral control panel.
Pre-manufacture colour choice in any RAL colour.
Site installation.
Bespoke additions on request.
For complete peace of mind, all new equipment is backed up by Crushing and Screenings own manufacturers guarantee.
Please call +44 (0)1845 525288 to discuss your requirements in more detail.